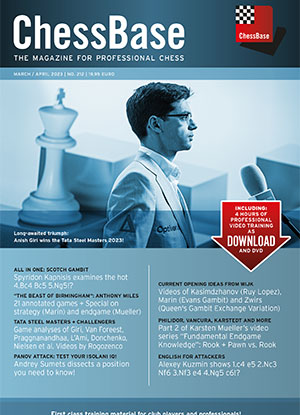 ChessBase Magazine (CBM 212) offers a window to the world of professional chess. The latest issue, CBM #213 is just out. Our columnist, Nagesh Havanur, reviews a recent issue, CBM #212. Here is a glimpse of the contents:
3260 games (49 annotated) from Tata Steel, Meltwater Tour Final and World Blitz &World Rapid Championships among others. 12 opening surveys, 7 demo. lectures and several exercises for training. Annotators include Anish Giri, Jorden Van Forrest, Jan Duda, Peter Heine Nielsen among others. The icing on the cake is a feature on Tony Miles (1955-2001) with 21 annotated games.
CBM 212 Review by Nagesh Havanur
Even as I write these lines, the world championship match is drawing to a close. Unfortunately, the event has lost its luster on account of the withdrawal of Carlsen. It remains to be seen whether the performance of Nepomniachtchi and Ding Liren in this duel would meet the standards set by their predecessors.
Meanwhile their rivals on the tournament circuit have proved time and again that they also deserve their place under the sun. CBM 212 showcases their play in three events, the Tata Steel Chess Tournament, Meltwater Final and World Rapid & Blitz Championships held at the end of 2022.
A surprise winner in Tata Steel
As is known, Anish Giri won the 2023 Edition of Tata Steel Tournament with a score of 8.5 points out of 13 edging out Abdusattorov and Carlsen who finished with 8 points out of 13. He remained unbeaten throughout. In this issue, CBM 212, he annotates three of his games, with Gukesh, Carlsen and Rapport. As it turned out, the victory over Carlsen played an important role in determining the final standing. However, the game with Gukesh is more satisfying in aesthetic terms:
https://tatasteelchess.com/2023-photo-gallery/photo-gallery-round-2/
Photo: Jurriaan Hoefsmit/Tata Steel Chess Tournament 2023
Giri-Gukesh, Tata Steel Tournament 2023 ( download pgn)
http://view.chessbase.com/cbreader/2023/4/27/Game307687.html
There are several remarkable games from this event in CBM 212, and I was particularly fascinated by Abdusattorov's victory over Carlsen. The world champion took terrible risks to win this game as he had remained behind in the score table after losing to Giri. Unfortunately, he found an opponent who was well-prepared. Subsequently Abdusattorov was to write on this encounter:
"This game was played in Round 5. It was my first classical game against Magnus Carlsen. I had prepared a lot of things on the rest day the day before, and I was extremely concentrated. I looked at his games and he plays both 1.e4 and 1.d4. But before this game I had also looked at 1.c4. So, I was ready for pretty much every first move."
–New in Chess Magazine, #2, 2023
Photo: Jurriaan Hoefsmit/Tata Steel Chess Tournament 2023
In CBM 212, Dorian Rogozenco offers a video presentation on this game. My own annotations to the game aided by Abdusattorov's commentary in New in Chess Magazine, issue, #2, 2023 may serve as a complement to this game.
Carlsen-Abdusattorov, Tata Steel Tournament 2023 (download pgn)
http://view.chessbase.com/cbreader/2023/4/28/Game3282703.html#
Carlsen's Finest hour
Carlsen had it relatively easy in the Meltwater Final Tournament in which he finished with 20.5 points out of 27far ahead of Wesley So who ended up with 16 points out of 27. You will find the games in CBM 212. However, his finest hour was his triumph in the World Rapid & Blitz Championships. In the Rapid event he finished with 10 points out of 13 ahead of Vincent Keymer and Fabiano Caruana who scored 9.5 out 13. In CBM 212, Robert Ris analyses his victory over Abdusattorov in the Move-by-Move column.
In the Blitz Section he finished with 16 points out of 21 ahead of Hikaru Nakamura and Haik Martirosyan who scored 15 points of 21. Carlsen shone in particular in the following game, and it is annotated by Peter Heine Nielsen in this issue.
Carlsen-Rapport, World Blitz Championship (download pgn)
A game in which the loser deserves as much credit as the winner.
The quality of games in rapid and blitz can be uneven and results unpredictable. In this World Blitz Championship, you would also find a game in which Nepomniachtchi beats Carlsen after the latter runs out of time after 41 moves. The game itself is not spectacular and Nepo only has a superior position at the end of it all. But then who can win against Time? Among other games one did make waves and won the brilliancy prize. Older readers here are quite familiar with the following encounter. Still, it's worth a look:
Giri-Dubov, World Blitz Championship 2023 (download pgn)
A Tony Miles Special
CBM 212 also carries a special feature on Tony Miles with twenty-one annotated games. The opponents include such illustrious names as Spassky, Korchnoi, Geller, Polugaevsky Beliavsky, Ljubojevic, Ulf Andersson and Walter Browne. The well-known game, Karpov-Miles, 1980 also deserved to be included. The life and games of Tony Miles merit more detailed consideration. Someday I hope to return to this theme.
For now, I shall draw the attention of readers to a remarkable book,
Tony Miles: 'It's only me' England's First Chess Grandmaster, lovingly compiled by Geoff Lawton:

There are as many as 3030 games of Tony Miles in the Big Base alone. They are worth a look.
Opening videos and surveys
There are 3 opening videos in CBM 212.
The first offers an introduction to an unusual line in the QGD Exchange variation (D35)
by Nico Zwirs:
1.d4 d5 2.c4 e6 3.Nc3 Nf6 4.cxd5 exd5 5.Bg5 Be7 6.e3 h6 7.Bh4 Bg4
The second presents analysis of a line in the Evans Gambit (C52) by Mihail Marin.
The third is a lecture on the Anti-Marshall Line (8.a4 ) in the Spanish (C88) by Rustam Kasimdzhanov.
Take your pick.
What is more, there are as many as opening surveys ranging from the Caro-Kannto the Catalan. Among them I would single out the analyses on the Ulvestad Variation of the Two Knights Defense (5…b5) by Robert Ris and the Petrosian Variation of the King's Indian (7.d5) by Krisztian Szabo.
The Ulvestad Variation
The first of them deserves a diagram:
Olaf Ulvestad, the pioneer of this variation wrote way back in 1941,
"It meets the pawn attack on the knight by a pawn attack on White's most effectively placed piece. White's original attack is completely broken up and Black obtains a powerful initiative. Instead of committing the same mistake as White, by moving the same piece twice in the opening, Black attacks with a move which furthers his general development. 5..PN4 provides useful freedom to his QB and QR."
The analysis by Robert Ris in CBM 212 comes close to a similar exercise by Jonathan Tait in his recent work, A disreputable opening repertoire (Everyman Chess. 2022). Tait offers a historical perspective and has a personal experience of playing this line, not to mention knowledge of games that don't appear in regular databases. Robert Ris offers an analysis that is modern and contemporary. It's precise and sharp, user-friendly in that one can check out the analysis on ChessBase. In my view readers can benefit from studying both.
Here I have room for a bird's eye view of the main line in this remarkable variation.
The Italian Game-Ulvestad Variation 2023 (download pgn)
The last word on this variation is yet to be written.
The Petrosian Variation of the King's Indian
Krisztian Szabo's treatment of the 7.d5 Variation of the King's Indian covers the modern line 7…Na6, not the older line 7…Nbd7. Back then during the 1960s and the 1970s 7.d5 was named after Tigran Petrosian who outplayed opponents whenever they tried 7…Nbd7. In recent years there have been sporadic attempts to revive 7…Nbd7. Perhaps this line also deserves a second look.
Besides opening surveys, this issue has standard features on tactics, strategy, and the endgame. Here I would single out Karsten Müller's demo lecture on rook and pawn versus rook ending. He is lucid and it's a treat to learn the final phase of the game from him.
Last, but not least, we have Jan Markos' demo lecture on the topic, "How to deal with draw offers". Practical advice for the tournament player.
Summing up
The main database of the issue has 3260 recent games of which forty-nine are deeply annotated. There is much else in this DVD that deserves to be explored. Apart from the veterans I have already mentioned, the commentators also include young lions like Jorden Van Forrest and Praggnanandhaa. Their annotations to the games with Carlsen and Ding Liren offer a refreshing departure from what we see elsewhere. They are frank, candid, and come straight from the heart.
It may be noted that there are more annotated games in the opening and training sections of this issue.
Well, practice makes perfect.
Notes:
1) Olaf Ulvestad (1912-200) was an American player with an unorthodox mind. During the 1946 USSR-USA Match he drew level with David Bronstein, winning one, losing one and drawing two games.
2) Tony Miles was called "The Beast of Birmingham" by a malicious press. He was a true street fighter over the chessboard.
However, beneath that fierce exterior, there was a warm and a vulnerable heart: https://ceasefiremagazine.co.uk/chess-corner-4/
Nagesh Havanur:
https://en.chessbase.com/author/nagesh-havanur
Prof. Nagesh Havanur (otherwise known as "chessbibliophile") is a senior academic and research scholar. He taught English in Mumbai for three decades and has now settled in Bangalore, India. His interests include chess history, biography, and opening theory. He has been writing on the Royal Game for nearly three decades. His articles and reviews have appeared on several web sites and magazines.