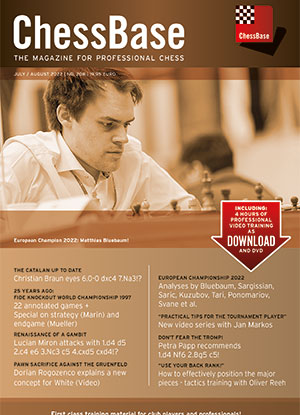 ChessBase Magazine offers a window to the world of professional chess and it also provides arsenal for the tournament player. The latest issue, CBM 209 is just out. Meanwhile here is a review of a recent issue. It offers games from two major events, Superbet Chess Classic, Bucharest 2022 and European Individual Championship. 2055 games (49 annotated), 11 opening surveys, 12 demo lectures and exercises for training. Annotators include Anish Giri, Matthias Blübaum, Gabriel Sargissian, Yuriy Kuzubov and Karsten Müller among others. The icing on the cake is a flashback on the 1997 FIDE World Championship Special with 323 games and a commentary.
CBM 208: Maxime shines and Matthias scores
Review by Nagesh Havanur
Even as I write these lines, The Saint Louis Rapid & Blitz Tournament has come to a close with Ali Reza Firouzja winning the event. It was a star-studded field with Aronian, Caruana, , Mamedyarov, Nepomniachtchi and Nakamura among others. One player who did not fulfil an early promise of success was Maxime Vacher-Lagrave from France. Maxime is a fine talent with a variable form and unpredictable results. One day you think, he is down and out, and the next day he is up in a race for the first place in a tournament. This is what happened in the Superbet Chess Classic Bucharest 2022. Maxime shared the same number of points (5.5/9) with Wesley So and Levon Aronian. In the rapid play-off he defeated both his rivals to come first. This issue offers all the games from the event. Anish Giri annotates a critical encounter from round four:
Video Credit: Chess -ThanhCong Online
Vachier Lagrave-Caruana, SuperbetClassic Bucharest 2022
The race for the European title
This time the European Individual Championship was weakened by the absence of the Russian players on account of the war in Ukraine and the consequent FIDE ban on their participation. Nevertheless, the event was not bad with as many as 317 players competing for honours. In the end the tournament turned out to be a race between Matthias Blübaum and Gabriel Sargissian who both finished with 8.5 out of 11. With the better tiebreak the German GM was declared the winner. In this issue he annotates his win over Yuriy Kuzubov.
Matthias Blübaum – Yuriy Kuzubov, European Championship 2022 (download pgn)
Opening videos and surveys
There are 3 opening videos in this issue. The first offers a lesson on the Slav Defence by Mihail Marin. The second features a lecture on a line in the Grünfeld Exchange Variation by Dorian Rogozenco. The third provides a lecture on the Ragozin Variation of the Queen's Gambit Declined. Take your pick.
There are as many as 11 opening surveys ranging from the Sicilian Sveshnikov to the Schara-Hennig Gambit. I would single out at least two of them.
The Schara-Hennig Gambit (D32) is analysed here by Lucian Miron. Let me offer a sideline by way of appetizer.
A sideline in the Schara-Henning Gambit (download pgn)
The other survey is the analysis of an offbeat line in the London System by Tanmay Srinath. He offers one of his own games by way of illustration. I am offering the same without his commentary. That'sworth a look.
Srinath-Kurpnieks, ICCF 2021 (download pgn)
When I checked my Correspondence Chess Database I found as many as 64 games played by him. Quite a few of them are of theoretical importance.
A Tournament Special
This issue carries a special feature on the FIDE World Championship Tournament 1997 with 323 games of which 22 are annotated. There is also a video lecture by Mihail Marin on various middlegame plans employed by players in this tournament.
As pointed out in this feature, this was not a world championship in the strict sense of the word. Kasparov who was already outside the FIDE refused the invitation to this tournament with scorn. "I am the World Champion. So what is this for?" That was more or less how he saw it. Kramnik refused to participate as Karpov was directly seeded to the final. Others like Anand protested, but did play. The names of contestants in this knockout event reads like the Who's who of modern chess: Smyslov, Korchnoi, Portisch, Beliavsky, Vaganian, Yusupov, Timman, Shirov, Ivanchuk, Judit Polgar, Short and Morozevich, to mention a few.
Two duels from this tournament are most memorable. One is the Anand-Khalifman game from the third round. Martin Breutigam recreates the whole scene of the battle and its exciting course in this issue:
Anand-Khalifman, FIDE World Chess Championship 1997 (download pgn)
The other is the decisive blitz game between Anand and Adams in the last round:
Video Credit: Shareurknowledge
Anand-Adams, FIDE World Chess Championship 1997 (download pgn)
A game full of vicissitudes!
For now I shall not comment on the aftermath of this tournament. That's another story altogether.
An Alekhine classic remembered
One more feature deserves special mention. It's the commentary on the game, Reti-Alekhne by Dorian Rogozenco. Alekhine himself regarded it as one of the two best games he ever played (the other being Bogoljubov-Alekhine, Hastings 1922). Here I have room only for the bare score of the game:
Reti-Alekhine, Baden-Baden 1925 (download pgn)
Besides opening surveys, this issue has standard features on tactics, strategy and the endgame. A new feature introduced here is a video lecture on time management by Jan Markos. A practical lesson for serious tournament players.
Summing up
The main database of the issue has 2055 games of which 49 are deeply annotated. The annotators include Anish Giri, Matthias Blübaum, Gabriel Sargissian, Yuriy Kuzubov, Mihail Marin, Dorian Rogozenco and Karsten Müller among others.
The author
Prof. Nagesh Havanur (otherwise known as "chessbibliophile") is a senior academic and research scholar. He taught English in Mumbai for more than three decades and has now settled in Bangalore, India. His interests include chess history, biography and opening theory. He has been writing on the Royal Game for nearly three decades. His articles and reviews have appeared on several web sites and magazines.